Business Marketing Class – Part 2
Keywords
Welcome to Business Marketing Class Part 2 – Keywords. This week will be all about keywords. What they are, their history, why they matter, match types, researching them, implementing them and monitoring them.
Chances are good that you've heard about keywords and you may also be familiar with using a hashtag in front of them. Keywords are incredibly important for many reasons and should always be your very first step whether you're building a web page, adding social content, doing local citations or writing ad copy.
As the name implies, keywords are words that are used as a key. Essentially, they give the key description of content in as few words as possible. This could be merely one word or it could be several words. Often times, when keywords contain numerous words they are referred to as "long tail keywords." In other words we could have a keyword like "funnel cake" and then a keyword like "gluten free funnel cake recipes" would be a long tail keyword.
Our discussion of keyword history will be limited to its usage in terms of digital data. While the origin of the word 'keyword' is sometimes traced to Michel Bréal's Semantics: Studies in the Science of Meaning in the year 1900, as far as I am aware of, the first use of it digitally was in 1973.
Arguably, the very first social media platform was known as "Community Memory" and it began in 1973 in Berkeley, California. This was a simplistic system that allowed users to input and retrieve posted information. The ability to include "keywords" was used in an effort to improve the speed of searching and retrieving data.
To understand the necessity of this a basic understanding of databases is needed. In simplest terms, you could think of a database as a spreadsheet in that it contains columns, rows and individual cells. In order to improve speed a database column containing only keywords is used so that a search and retrieval can be performed much more quickly as opposed to searching multiple database columns, rows and cells containing significant quantities of data.
Keywords are important because they are an integral component effecting the discoverability and effectiveness of your content and digital marketing elements. Most frequently clients will come to us having already done web development, landing pages, social media and other forms of digital marketing all without first doing comprehensive keyword research. As mentioned before, keyword research should always be step 1.
You need to be aware that there is more than one type of keyword match. An exact match would be when the search term is an exact match to the keyword.
When using the Google Keyword Planner Tool an exact match also includes whether or not the word is in plural form. This is why you will find that the Google Keyword Planner Tool may report massive search quantity differences between a singular and plural form of the same keyword. Be aware that this changes in the context of a Google Adwords Campaign and when a keyword is set to exact match a plural form of the keyword will trigger the ad display and vice versa.
A phrase match is when you have more than one word as a keyword and the search term contains all of those words except that they are in a different order. An example of a phrase match is when your keyword is "Used Red Mercedes Convertible" and the search term is "Red Mercedes Used Convertible."
A broad match is when the search term contains similar words, less words or more words than your keyword. An example of a broad match is when your keyword is "Homestyle Lasagna" and the search term is "Lasagna", Lasagna Recipe, "Home Cooked Lasagna Ingredients, etc.
Fortunately, keyword research is not overly complex and a variety of helpful tools are at your disposal free of charge. My favorite keyword research tools are Google Keyword Planner, Bing Keyword Planner and Soovle.
The first step of doing keyword research is to create a "seed word" list. Start off by making a list of keywords from your head.
Beautician
Hair Stylist
Hair Salon
Now go to Soovle.com and enter those words and get some additional words and add them to your list.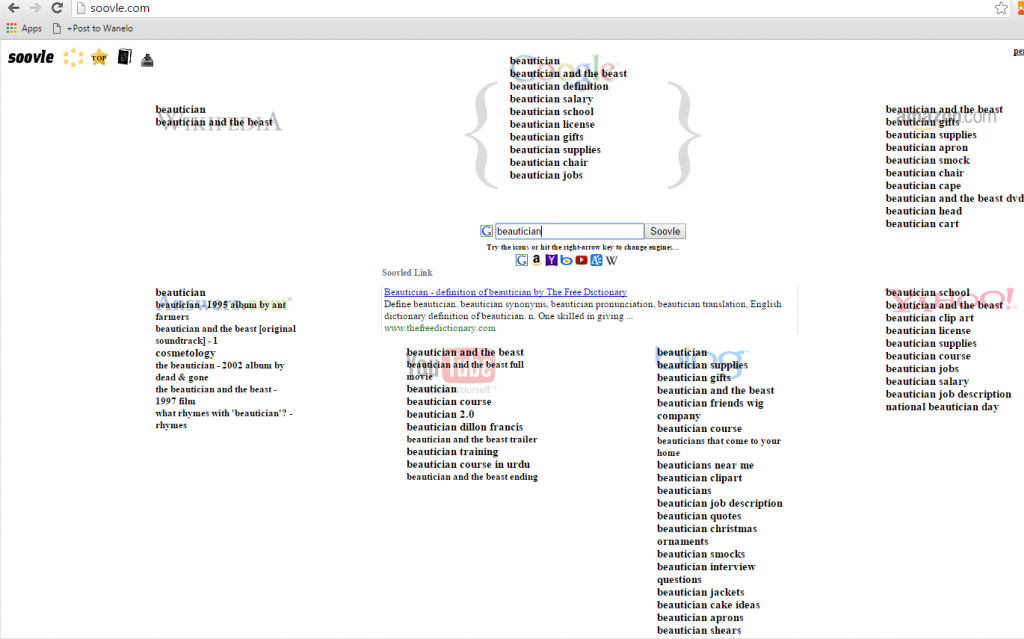 Now your list looks like this:
Beautician
Hair Stylist
Hair Salon
beauticians that come to your home
beauticians near me
hair stylists
hair stylist near me
best hair stylist
black hair stylist
hair salons
hair salon near me
hair salon makeover
hair salons near me
hair salon for men
Now we want to do some Google searches and see who is ranking on top for these keywords and then make a list of their website URL's.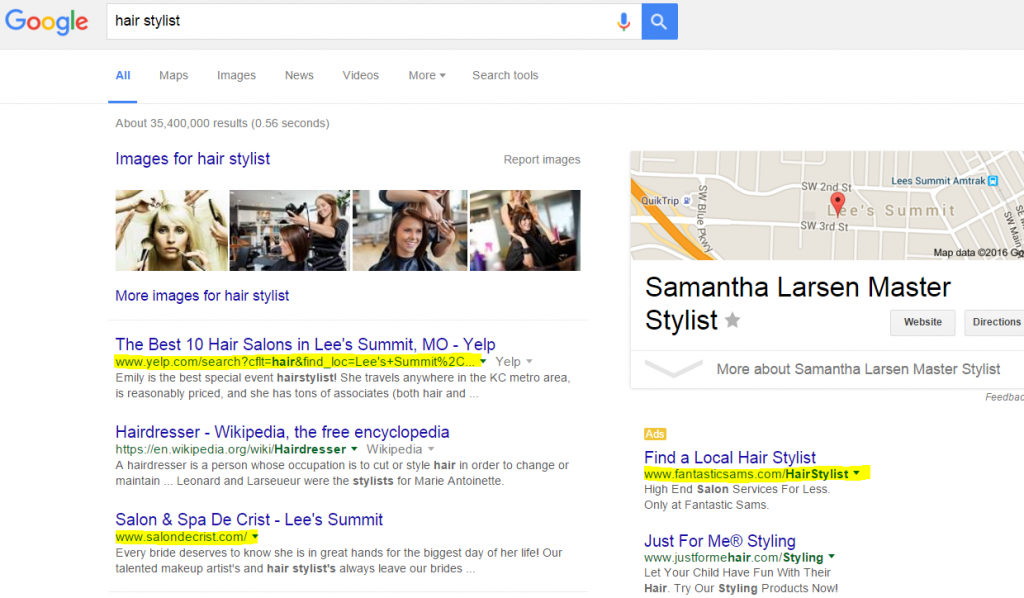 Now we can make a list of website URL's of competitors who rank well on the search engine for keywords we are interested in.
http://www.yelp.com/search?cflt=hair&find_loc=Lee%27s+Summit%2C+MO
http://www.salondecrist.com/
http://kansascity.fantasticsams.com/salons.aspx?gclid=Cj0KEQiA5oy1BRDQh6Wd572hsfkBEiQAfdTPCq70iscFux0ALcZZDAKH1KE0AB_DcwaOGxxXj1sMXMoaAsPv8P8HAQ
http://www.justformehair.com/product-category/styling-finishing?gclid=Cj0KEQiA5oy1BRDQh6Wd572hsfkBEiQAfdTPCu8v9l9dBgqfQqtfrompaRJ9iA7ErPRzcPEx8nvdXasaAiU58P8HAQ&gclsrc=aw.ds
Now that we have some seed words that we have multiplied using Soovle and we also have some competitor URL's it is time to enter the Google Keyword Planner tool and do some more research.
If you don't already have a Google Adwords Account you will need to go and create one so you can access the Keyword Tool. Navigate to https://adwords.google.com and create an account. Once your account is up and running go to the top navigation bar and click on "Tools" and then when the menu scrolls down click on "Keyword Planner."
Note: When initially creating your Google Adwords account, if you opt for the guided tour you will be required to enter your billing details. This is just fine but be sure to pause your campaign if you don't wish to launch it and accrue charges. Alternately, you can disregard the guided tour and you will not be required to enter your billing details before using the keyword planner.

When the keyword planner opens up go to the left hand side and click on "Search for new keywords using a phrase, website or category." In the box titled "Your product or service" enter a keyword, in the box titled "Your landing page" enter your or your competitors' landing page. (Remember we already made a list of competitor landing pages by doing Google searches on keywords). In the box titled "Your product category" use the existing choices and pick the best fit. Lastly, click on "Targeting" and this is where you can pick your locations whether it be international, nationwide or a specific city or state. Finally, click the blue button on the bottom left corner titled, "Get ideas."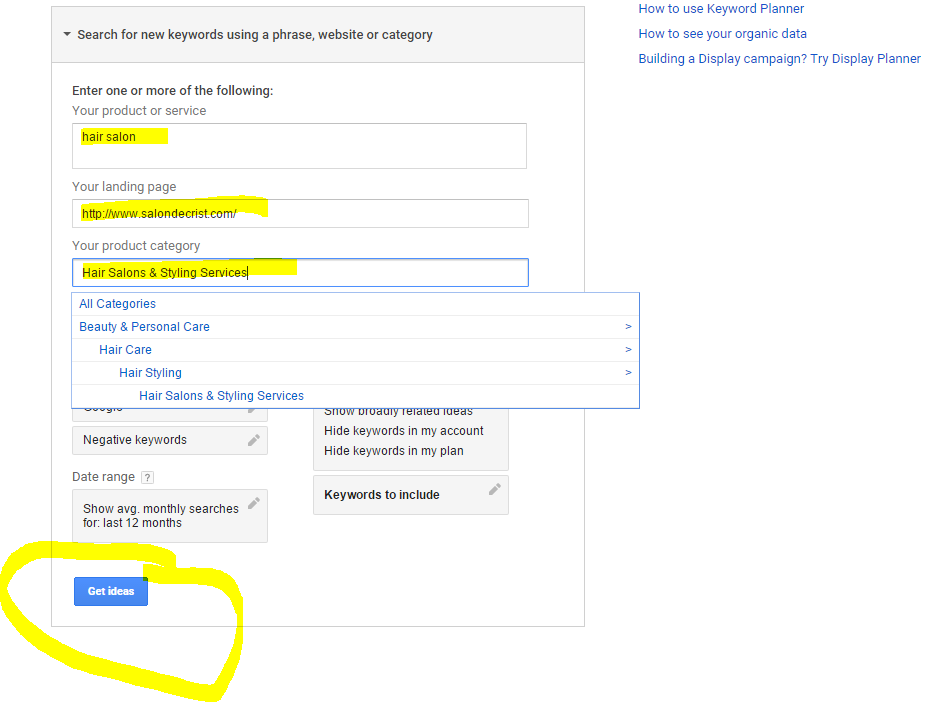 Now you will get a new screen with your results. Be sure to click the "Avg. monthly searches" and this will sort the results where the most searches rise to the top.
In this case we have some very cool findings. For example, "hair salon" has averaged 480 searches per month while the plural form "hair salons" has averaged more than double that at 880 searches per month. Also, the word "salon" is a top performer with 2,400 searches per month.
Now you will want to click the "Download" button and bring these results onto your computer as a spreadsheet. Repeat each of these steps for your landing page as well as your competitor landing pages.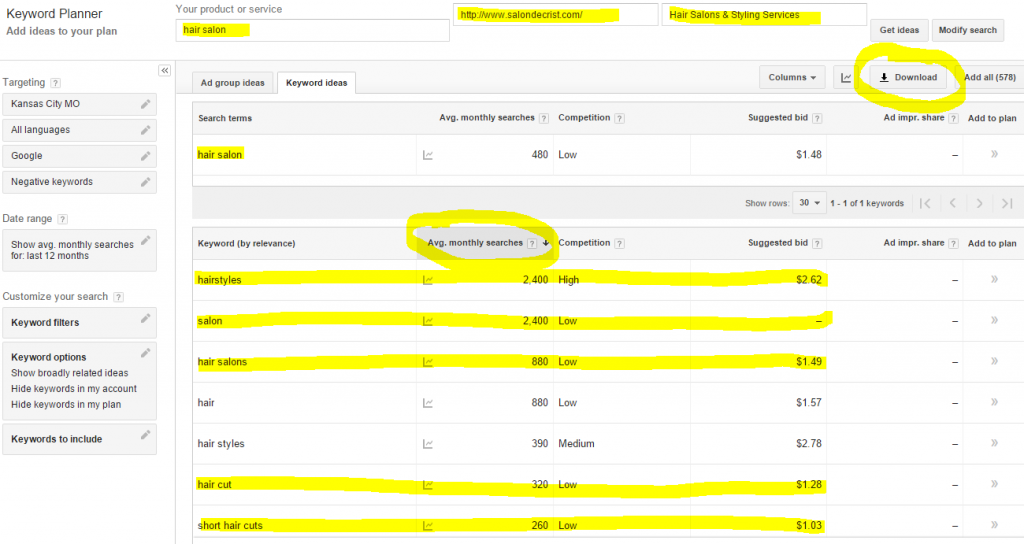 Once you have downloaded numerous spreadsheets open them one at a time. You will want to delete any irrelevant keywords and then you should create one master spreadsheet that contains all of the keywords that you would be interested in using. This is the spreadsheet that you will refer to for choosing the best keywords to use. Also keep in mind the "competition level." If you have two keywords with a similar quantity of searches and yet one of these has a lower competition level you may want to use the less competitive word.
For a very comprehensive overview on using all of the features of the Google Keyword Planner please visit https://support.google.com/adwords/answer/2999770
Implementing keywords is fairly straightforward once you have a list of them to choose from. If you are developing a landing page you can use keywords and keyword variations in the URL, title, meta, content, image names, video names, etc. If you are doing social posting you can use these keywords with hastags. If you are doing some form of digital marketing you can use these keywords in your ad title and ad copy.
Note: Depending on whether you are adding keywords to social media or webpages you may need to precede the keyword with a pound sign or you may need to separate the keywords with commmas, etc.
Note: If you need to implement a keyword such as "Salons Near Me" just get creative. You can do something like, "If you are searching for salons near me we are conveniently located at 101 1st. St., Kansas City, Mo. and we would love the opportunity to earn your business!"
My favorite tool for monitoring keyword performance is Google Webmaster. If you don't already have this in place you can set it up for free at https://www.google.com/webmasters/tools/ Once you have Google Webmaster up and running you can monitor keyword performance.
Open Google Webmaster for your site and on the very left sidebar click "Search Traffic" and then when the menu scrolls down click on "Search Analytics." When the info displays you will see 4 small check boxes across the top. Check "Impressions, CTR & Position."
Impressions is how many times you have been seen, CTR is your click-through-rate or how many times you were clicked in proportion to how many times you were seen and Position is where you rank. Keep in mind that about 10 positions rank for each page so position 1 is the top of page one, position 10 is the bottom of page 1, position 11 is the top of page 2 and position 20 is the bottom of page 2, etc.
If you select the round dial for Queries you can enter any search terms you want to focus in on. Below the graph area you will see the keywords listed, along with Impressions, CTR and Position. By selecting the Dates round dial you can modify this data to reflect a variety of date ranges. By clicking the Download button in the lower left corner you can bring these reports to your PC which will allow you to convert them into graphs and/or charts so that you can monitor keyword performance over a period of time.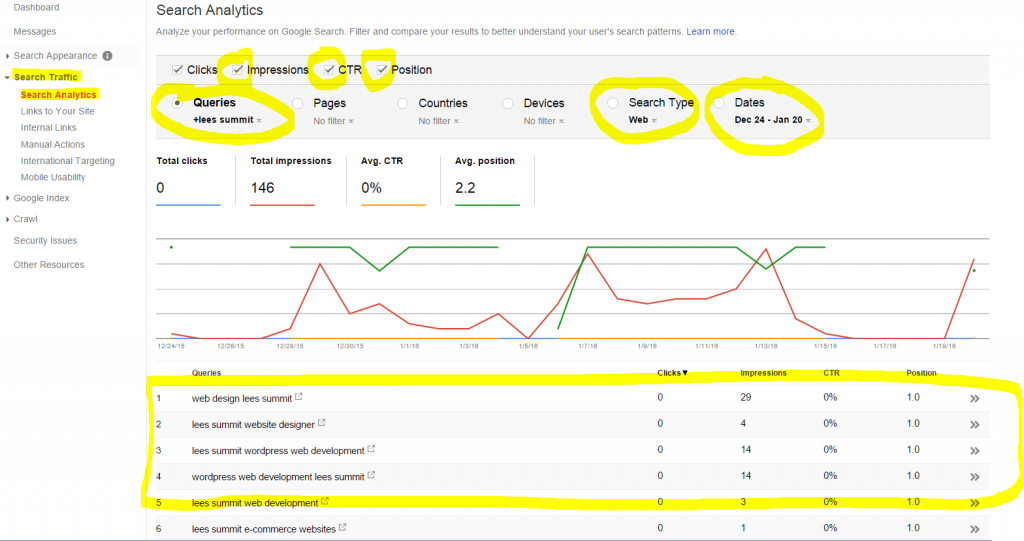 For a very comprehensive overview on using all of the features of the Google Webmaster dashboard please visit https://support.google.com/webmasters/answer/6155685
Week 2: Keywords

Keywords defined, keywords history, types of keywords, importance of keywords, keyword research, keyword examples, keyword tools, keyword implementation.

Week 3: Email Marketing

Email marketing overview, mail list generation/acquisition, legalities, best practices, pros & cons, software choices, results monitoring. Go To Email Marketing Class

Week 4: Social Media Marketing (Organic & Paid)

Social media overview, social media platforms, social media demographics, organic social media marketing, paid social media marketing, best practices, results monitoring, pros & cons. Go To Social Media Marketing Class

Week 5: Search Engine Marketing (Organic)

Organic search engine marketing overview, on page seo elements, off page seo elements, local citations, backlinks, penalty avoidance, algorithm updates, webmastering, analytics, pros & cons. Go To Organic Search Engine Marketing Class

Week 6: Search Engine Marketing (Paid)

Paid search engine marketing overview, search engine choices, types, account setup, account monitoring, results monitoring, non-profit grants, pros & cons. Go To Paid Search Engine Marketing Class

Week 7: Video Marketing

Video marketing overview, best practices, video production, video marketing channels, pros & cons. Go To Video Marketing Class

Week 8: Traditional Marketing

Traditional marketing overview, print advertising, radio advertising, television advertising, direct mail marketing, billboard advertising, hosting seminars and workshops, attending trade shows, networking group participation, door to door selling, pros & cons. Go To Traditional Marketing Class. Go To Traditional Marketing Class