Business Marketing Class – Part 7
Video Marketing
Welcome to Business Marketing Class Part 7 – Video Marketing. This week we will be discussing the option of paid marketing using videos. Topics covered will include video marketing overview, best practices, video production, video marketing channels and pros and cons.
Consider the following video marketing statistics
"Online video now accounts for 50% of all mobile traffic and is predicted to rise to 69% by 2017 and 79% by 2018."Hub Spot
"100 million internet users watch online video every day and 90% of online shoppers said they find video helpful in making shopping and buying decisions."Brewerey
"73% of homeowners say they're more likely to list with a realtor who offers to create a video for them and yet only 4% of agents put their listings on YouTube." Virtuets
"A recent video marketing survey found that 93% of professional marketers are using videos in their campaigns and 82% confirmed that video had a positive impact on their business."Single Grain
"A report by Forrester concludes that including a video in an email leads to a whopping 200%-300% increase in click through rates."Insivia
What does all this mean? Based on all of the current data video viewing is strong and increasing and it is also a proven winner in terms of marketing.
Why is this? It has been said that a picture is worth a thousand words and it has also been said that a one minute video is worth more than one million words. Simply put, a video is a powerful tool by which to convey a lot of information quickly. Additionally, a video is at an advantage by virtue of its simplicity. The user can click and watch it, pause, re-wind or repeat as needed. This is very well received as opposed to your user needing to read hundreds or thousands of words to gather up your information.
In summary, if you are not using any form of video marketing you are missing out and need to consider implementing it. We will give you some tips on creating more effective videos as well as guide you on your options of where you can make use of them. Last but not least, we will provide you with options for creating them on a tight budget.
Video Marketing Best Practices
You need to have your videos on YouTube. For starters YouTube is the second largest search engine in the world and it will host and stream your videos for free. Past that it has a ton of helpful editing tools and gives you the option to share and/or embed any of your videos or playlists.
Quantity matters. The most successful brands are known to have more videos and also push them out on a regular schedule. For example, top aggregate brands can have 70+ videos a month and leading media brands can produce as many as 500 per month.
SEO matters. Be sure to name and title your video with well-chosen keywords. Additionally, you need to include a very good description and add savvy tags. The top performers will maintain twice as many playlists and video tags as the low performers.
An intro hook, branding, call-to-action and overlays matter. Make sure that your video has an enticing entrance that will compel viewers to keep watching. Also, include branding and call-to-action which will increase your image and improve your clicks. Lastly, every marketing video can benefit from an overlay which when clicked will send the user to the appropriate landing page.
Short and concise matters. Don't bother yourself with producing hour long videos. Few people will bother watching them. Rather, make them short and sweet – videos ranging from 45 seconds to less than 2 minutes do best.
Sharing matters. You need to promote your video on social media and at your website. Push it out to your fan base at Facebook, Twitter, Google+, etc. The more people you expose to it the better you will do.
Paid marketing matters. Uploading a video to YouTube in and of itself is not a sincere marketing strategy. In order to get the maximum impact you need to spend some money and promote it at Google, Facebook, Twitter, LinkedIn, etc.
If you have the funds you can hire a professional video producing and editing company such as us. However, it may be that you simply don't have the cash flow to consider that option and this is when you must learn to be frugal.
One option is to create a very nice PowerPoint slideshow and then export it as a video. Once it's uploaded to YouTube you can add a free audio track. You can shoot decent enough videos with a good quality smart phone or camera and then edit them using a free software such as Windows Moviemaker.
If you search around the net you will be surprised at how many options there are for free or affordable video editing software. With a bit of creativity, practice and time you can learn to capture and edit your own videos.
Finally, you should know that you can purchase pre-done templates on line at places like VideoHive. These can be purchases for as little as $5 and most of the heavy lifting is already done for you. By using Adobe After Effects you can edit the video template and replace the logo, text and graphics to your needs. This is a great option for creating very nice videos on a tight budget.
Here is a video where we hired a professional singer
Here is a video we did using Adobe After Effects
Here is a video we did for a client using clips they took with a smart phone
Our favorite video marketing channel is Google. Google now owns YouTube and has integrated YouTube video marketing into the Google advertising platform. There are a ton of options to choose from and the cost is amazingly affordable with video views for as low as .05 to .10 cents!
Another option is Facebook. Facebook now allows for direct video uploads and they support descriptions, call to action, tags and more. You can boost your videos at Facebook for a reasonable cost and this is a great way to reach the consumer market.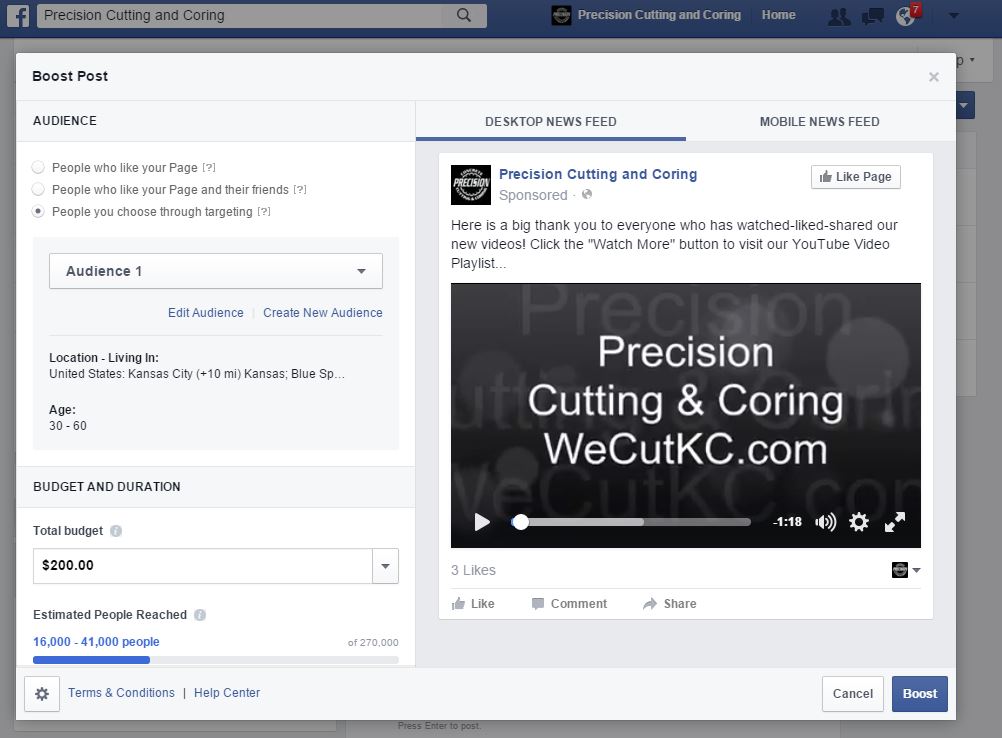 Another option is Twitter. Twitter also allows for video marketing and they have many targeting options. Video marketing at twitters is affordable and as with Facebook is a great option for reaching the average consumer.
Finally you should know that LinkedIn is a very good video marketing channel for reaching businesses. You can create an update on your LinkedIn business page and embed a YouTube video. You can then sponsor that update and target it to specific business industries as well as other targeting options.
Video Marketing Pros & Cons
PROS
Organic video marketing is very low cost
Can be very effective
You can convey a lot of information very quickly
You can include overlays that click to your landing pages
You have many options of where you can display the videos
Marketing at YouTube is very inexpensive
Videos are multi-purpose for website, marketing, email, etc.
CONS
Can be expensive to have professionally done
Can be time consuming if you do it yourself
Can require substantial resources if self-hosted
Changes to an already produced video are not simple
May require monetary investments in hardware and software
WEEK 2: KEYWORDS

Keywords defined, keywords history, types of keywords, importance of keywords, keyword research, keyword examples, keyword tools, keyword implementation. Go To Keywords Class

WEEK 3: EMAIL MARKETING

Email marketing overview, mail list generation/acquisition, legalities, best practices, pros & cons, software choices, results monitoring. Go To Email Marketing Class

WEEK 4: SOCIAL MEDIA MARKETING (ORGANIC & PAID)

Social media overview, social media platforms, social media demographics, organic social media marketing, paid social media marketing, best practices, results monitoring, pros & cons. Go To Social Media Marketing Class

WEEK 5: SEARCH ENGINE MARKETING (ORGANIC)

Organic search engine marketing overview, on page seo elements, off page seo elements, local citations, backlinks, penalty avoidance, algorithm updates, webmastering, analytics, pros & cons. Go To Organic Search Engine Marketing Class

WEEK 6: SEARCH ENGINE MARKETING (PAID)

Paid search engine marketing overview, search engine choices, types, account setup, account monitoring, results monitoring, non-profit grants, pros & cons. Go To Paid Search Engine Marketing Class

WEEK 7: VIDEO MARKETING

Video marketing overview, best practices, video production, video marketing channels, pros & cons.


WEEK 8: TRADITIONAL MARKETING

Traditional marketing overview, print advertising, radio advertising, television advertising, direct mail marketing, billboard advertising, hosting seminars and workshops, attending trade shows, networking group participation, door to door selling, pros & cons. Go To Traditional Marketing Class